If you are not travelling in a group and do not want to book an individual guided tour with one of our vineyard or hiking guides, you are welcome to join one of the open guided tour dates. We have listed the upcoming dates for you.
Advance reservations are requested for some dates so that the organizers and walking guides can plan and prepare accordingly.
Enjoy our informative and entertaining tours through the Freinsheim holiday region.
But please note: We´re afraid, the information given during the tours is German language only. If you are interested in a guided tour in English, please let us know. We try to make your request possible. 
As soon as dates are fixed, they will be shown in the list. For given reasons, it may be that hiking dates can not be carried out. Registered participants will then be informed and the hike will be marked as "cancelled".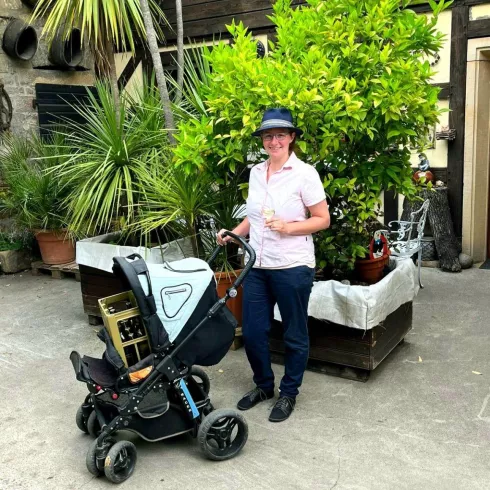 Kelten, Römer, Pfälzer - Genuss mit Aussicht
Die Geschichte der Pfalz ist auch eine Geschichte des Weinbaus und des Weines. In mehreren Etappen kommen wir nicht nur von Kelten zu Römern zu den heutigen Pfälzern und ihrem …
Weintour April - November
WEINTOUR - APRIL BIS NOVEMBER -jeweils um 14 Uhr(festgelegte Termine) 08.04., 13.05., 03.06., 08.07., 05.08., 02.09., 07.10., 04.11.2023Wie entsteht Wein und was gibt es zu beachten?Erleben Sie an einem Samstag …
Wanderung mit Robert Anthon: Hochsommer im Weinberg
Wanderung mit Robert Anthon: Hochsommer im Weinberg - der Jahrgang 2023 wächst heran, wir sind dabeiEinblicke in Weinbau, Landschaft und Winzerarbeit Die Wanderungen mit Winzermeister Robert Anthon führen durch die …
Wanderung mit Robert Anthon: Die Weinlese hat begonnen, wir schauen den inzern
Wanderung mit Robert Anthon: Die Weinlese hat begonnen, wir schauen den Winzern über die SchulterEinblicke in Weinbau, Landschaft und Winzerarbeit Die Wanderungen mit Winzermeister Robert Anthon führen durch die Weinberge …
Federweißenfest
Federweißenfest4 Weingüter laden Sie herzlichst zum Federweißenfest nach Weisenheim am Sand zu neuem Wein und Zwiebelkuchen ein. Eine geführte Weinwanderung mit kleiner Weinprobe und Geschichten rund um Weisenheim wird am …
Weinbergswanderung mit Winzermeister Robert Anthon
Weinbergswanderung mit Winzermeister Robert Anthon - Herbstwanderung I - Weinlese auf vollen Touren oder schon vorbei?Einblicke in Weinbau, Landschaft und Winzerarbeit Die Wanderungen mit Winzermeister Robert Anthon führen durch die …
Weinbergswanderung mit Winzermeister Robert Anthon
Weinbergswanderung mit Winzermeister Robert Anthon - Herbstwanderung II - Wingerte im Farbenrausch, nie ist die Pfalz bunterEinblicke in Weinbau, Landschaft und Winzerarbeit Die Wanderungen mit Winzermeister Robert Anthon führen durch …